How Mastering Your Thoughts Can Open Up Your Pathway to Peace
If you haven't noticed, I am on a big self-care kick.
I am not talking about mani/pedis, massages or deep dive in your tub with the newest CBD bath balm. Those things are great! And, truthfully, they are only treating the symptom of something much larger. 
In last week's blog, I filled you in, a tiny bit, about the science behind small shifts for big changes, the limbic part of your beautiful brain and integrating limbic calming techniques to create new pathways for calm. 
There are quite a number of elements that can contribute to a disconnect in creating the calm you need in life.
One thing I have witnessed in my own self-care, in my personal life and with my clients is the human ability to say awful, hurtful, cruel things. 
What is even more shocking is more often than not, we are saying these things to and about ourselves. 
Speaking to yourself in a way that you would never speak to your child, best friend or loved one is so very common.
Your inner dialogue can be the most toxic part of your day.  
Being able to find ways to manage your thoughts is key to finding and staying in a healthy, calm place. 
While I could go really deep about mastering your mental triggers, doing so in a blog would make it much too long for you to digest in one sitting. Hence my creation of Calm By Design Course and Collective. Alongside collective members, I dive in deep into mastering mental triggers and so many other elements that lead to creating a life full of calm and ease. 
For today, you can stick with the simple lesson of remembering.
Not all our thoughts are true. You choose which thoughts you keep.
You can start to help identify the not so helpful thoughts by deeply listening. Find the yucky, weedy ones, get to the root, pull them out and plant beautiful seeds in their place. 
Your thoughts can either be a source for inspiration or a catalyst into a downward spiral.  Your goal this week is to catch yourself and reverse direction when/if needed.
Recognize the negative statements that play on repeat in your mind. Blanket statement words such as,  "always", "should", "ought", "never" or "must", are often attached to negative, stressful thoughts. These statements are red flags that we have been caught in a  negative spiral.
Release any self-judgement that can come up and simply notice it happening. Think about a kinder way to speak to yourself.
What would you say to your child or a loved one? You deserve the same compassion.
Once you have found a negative, stressful thought, access what the foundation of the thought is, reform the concept to one that supports rather than tears down your current reflected experience. When I first started this work, I carried around a small journal to document the weedy thoughts and re-write a statement that was truer to my experience. 
Mindful meditation exercise:
Close your eyes and visualize your mind as soil.

Within the soil are rooted weeds sprouting negative thoughts and words.

Rip those weeds out at the roots. Explore the roots. Turn the soil over.

Sprinkle nutrients in the soil, by way of beautiful nourishing words.

Plant a new seed of life-giving thoughts.

Choose what you cultivate. 
Be sure to connect with me @happywithbaby for my month long, daily #dropeverythingandbreathe challenge. I am enjoying myself so much and would love for you to join in on the fun!
More Blog Posts Like This:
Slowing Down to Make Space for Gratitude
Don't Rinse & Repeat: What to do when every day leaves you feeling tired, bored, lonely, angry
I Didn't Realize I Had Anxiety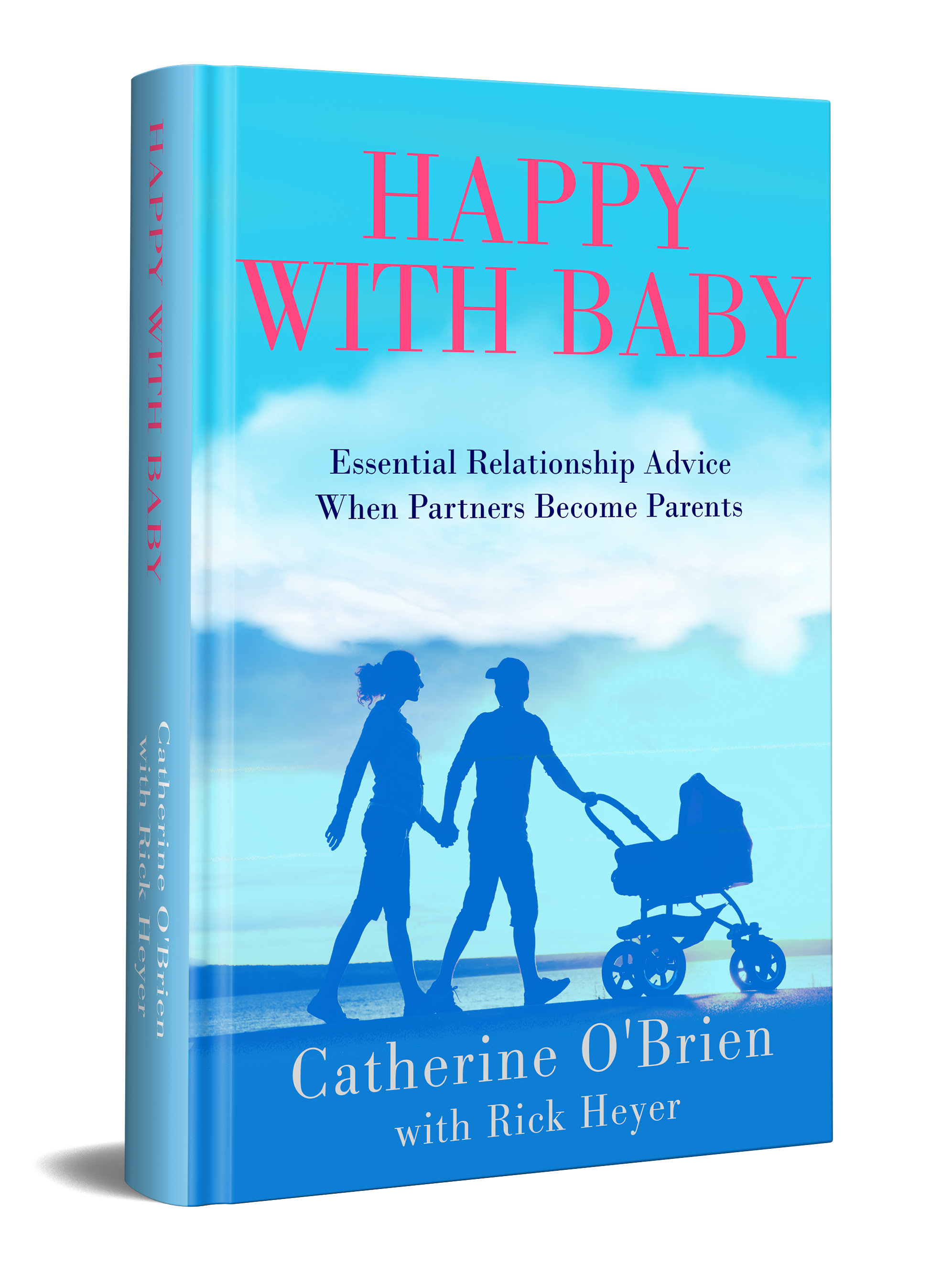 A parenting book that focuses on the couple's relationship
"I'm so glad I read this book. Although a professional in the field, I learned so much! It was informative and fun at the same time. I really loved the author's use of humor throughout the book. She uses examples from her personal life as well as many examples from other couples. I especially liked that it provides both male and female perspectives. While it is a book on parenting, it really focuses on the relationship between the parents and how to keep that on track after having a baby. This is a great book for new parents or soon to be parents. Would make a wonderful baby shower gift."
- Amazon Customer Julie K-Z
Subscribe
Sign up to get the latest weekly blogs sent straight to your inbox
https://assets.convertkit.com/assets/CKJS4.js?v=21
We respect your privacy. No spam. Ever.
/* Layout */ .ck_form.ck_naked { /* divider image */ background: #ffcc4a; line-height: 1.5em; overflow: hidden; color: #666; font-size: 16px; border: none; -webkit-box-shadow: none; -moz-box-shadow: none; box-shadow: none; clear: both; margin: 20px 0px; text-align: center; } .ck_form.ck_naked p { padding: 0px; } .ck_form, .ck_form * { -webkit-box-sizing: border-box; -moz-box-sizing: border-box; box-sizing: border-box; } .ck_form.ck_naked .ck_form_fields { width: 100%; float: left; padding: 5%; } /* Form fields */ .ck_errorArea { display: none; /* temporary */ } #ck_success_msg { padding: 10px 10px 0px; border: solid 1px #ddd; background: #eee; } .ck_form.ck_naked input[type="text"], .ck_form.ck_naked input[type="email"] { font-size: 18px; padding: 10px 8px; width: 34%; border: 1px solid #d6d6d6; /* stroke */ -moz-border-radius: 0px; -webkit-border-radius: 0px; border-radius: 0px; /* border radius */ background-color: #fff; /* layer fill content */ margin-bottom: 5px; height: auto; float: left; margin: 0px; margin-right: 1%; height: 42px; } .ck_form input[type="text"]:focus, .ck_form input[type="email"]:focus { outline: none; border-color: #aaa; } .ck_form.ck_naked .ck_subscribe_button { width: 100%; color: #fff; margin: 0px; padding: 9px 0px; font-size: 18px; background: #ec308d; -moz-border-radius: 0px; -webkit-border-radius: 0px; border-radius: 0px; /* border radius */ cursor: pointer; border: none; text-shadow: none; width: 30%; float: left; height: 42px; } .ck_converted_content { display: none; padding: 5%; background: #fff; } /* max width 500 */ .ck_form.ck_naked.width500 .ck_subscribe_button { width: 100%; float: none; margin-top: 5px; } .ck_form.ck_naked.width500 input[type="text"], .ck_form.ck_naked.width500 input[type="email"] { width: 49%; } .ck_form.ck_naked.width500 input[type="email"] { margin-right: 0px; width: 50%; } /* max width 400 */ .ck_form.ck_naked.width400 .ck_subscribe_button, .ck_form.ck_naked.width400 input[type="text"], .ck_form.ck_naked.width400 input[type="email"] { width: 100%; float: none; margin-top: 5px; } .ck_slide_up, .ck_modal, .ck_slide_up .ck_naked, .ck_modal .ck_naked { min-width: 400px; } .page .ck_form.ck_naked { margin: 50px auto; max-width: 700px; } /* v6 */ .ck_slide_up.ck_form_v6, .ck_modal.ck_form_v6, .ck_slide_up.ck_form_v6 .ck_naked, .ck_modal.ck_form_v6 .ck_naked { min-width: 0 !important; } .ck_form_v6 #ck_success_msg { padding: 0px 10px; } @media all and (max-width: 403px) { .ck_form_v6.ck_modal .ck_naked { padding-top: 30px; } } @media all and (max-width: 499px) { .ck_form_v6.ck_modal .ck_naked + .ck_close_link { color: #fff; top: 10px; } } .ck_form_v6.ck_slide_up .ck_naked + .ck_close_link { right: 10px; top: -5px; } @media all and (min-width: 600px) { .ck_form_v6.ck_slide_up .ck_naked + .ck_close_link { right: 35px; } } .textbox{ text-align:center; background:#ffcc4a; padding:34px 17px 10px 5px; margin:0; } .title{ font-size: 30px; line-height: 1.2em; }